Alcoholism is a serious problem of a society and we have to take this matter genuinely.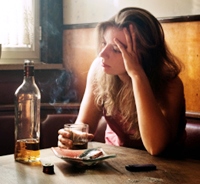 Alcoholism is a destructive addiction which makes an individual unhealthy, financially weak, and decreases his or her reputation in the society. Alcoholism somewhere is also a cause of domestic violence. The alcoholic persons unknowingly ruin the life of their family members and the family members also remain disappointed by any individual in their family if he or she is alcohol addicted.
Alcoholism, Alcohol Abuse, and Alcohol Addiction
Alcohol Abuse is the stage when a person keeps on drinking without caring the negative consequences of it and binge drinking is an example. Alcohol addiction is also known as alcoholism means all time craving for alcohol and the inability to stop drinking and even if it causes extreme personal or social harm. It is considered the most severe form of drinking. How is a person able to know that he is alcohol addicted? Here are few signs which are enough to tell you that you are in need of the Best treatment for alcohol addiction –
You want to stop drinking but you are incapable

Your tolerance to alcohol increases as compare with others

Your priority is drinking not your social responsibilities or work

You are losing control on your mind and body after drinking

Memory losses or blackouts

You are drinking to feel better or relaxed

Signs of irritability and extreme mood swings
Philadelphia Addiction Center is the renowned center where Doctor Victor Tsan is giving the nostrum Disulfiram Treatment for Alcohol Abuse after which an addicted person easily quit the alcohol after some unpleasant effects. Disulfiram is the drug that is founded in the nineties and it is used in the Esperal Implant treatment for alcoholism. Disulfiram treatment for alcohol addiction is the panacea treatment for treating the alcohol abuse and addiction and at Phila Addiction Center; Doctor Victor Tsan is practicing it. When disulfiram is mixed with alcohol then it causes many unpleasant reactions and the outcomes are –
produce flushing
throbbing headache
respiratory difficulty
nausea
sweating
thirst
palpitation
vertigo
dyspnea
hypotension
Blurred visions etc are some reactions on the human body when even a little amount of alcohol is mixed with Disulfiram.
Disulfiram Treatment for Alcohol Abuse is the best treatment for the alcohol abuse but is should be performed by the experienced hands only. Doctor Victor Tsan will furnish you with the disulfiram treatment at Philadelphia Addiction Center and you will able to live your life happily after. Some of the benefits that you will get from the disulfiram treatment are enlisted below –
Effectiveness of alcoholism treatment
Disulfiram treatment is the guaranteed treatment to the alcohol addiction and the treatment will not have any long-term effects on the body and mind of a patient. This is the effective treatment for getting rid of the alcoholism and much of the families have started living their life happily after getting the disulfiram treatment for the alcoholic person of their family.
Lead to Temperance
Alcoholism is a destructive addiction and it leads to extreme moods swing and a person becomes violent after drinking. Erratic or violent behaviors are the signs of alcoholism but disulfiram treatment encourages temperance in a person and the behavior of a person is under control by the treatment and it leads to temperance in the nature of the alcoholic person.
Happiness
Alcohol addicted person involuntarily ruins the lives of their family members. Because alcoholism is the main factor in any crime and it is also the main cause of domestic violence. Disulfiram treatment at Phila Addiction Center is spreading happiness all through in the homes of alcoholic persons.